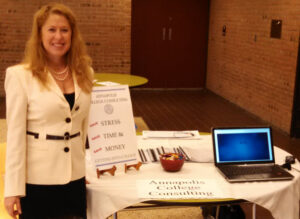 The college application process can be overwhelming for both the student and their family. Our primary focus is on making your journey as stress-free as possible by leveraging tools, sharing information from the many college visits that we conduct every year, and applying a wealth of real-world experience gained from our work with other students.
Our proven methods enable us to work together easily to achieve positive results no matter where you call home. Whether you live in nearby Annapolis, Severna Park, Arnold, or Riva, further away in Columbia, or even as far as, Delaware, Kentucky and Canada you will receive the same level of highly personalized service.
Add your story to our growing list of successful outcomes Take the first step to a bright future and request a free meeting with me today.
Partner Cori Dykman
Cori Dykman is a graduate of the University of Michigan's Ross Business School. She worked in the computer industry for many years and has been very involved in volunteering in the public schools system including at the Anne Arundel County Board of Education.  She is an educational consultant who relates exceptionally well to teens and understands adolescent and parental issues. Her warm tailored approach seem to consistently make the difference for the students that she partners with.
Since 2008 Cori has visited over 180 colleges, taken multiple courses, done extensive research, and has given talks and a webinar on college related issues. She is a professional member of IECA (Independent Educational Consultants Association) which is the most prestigious organization for educational consulting, in order to keep industry standards high and stay updated on this constantly changing and nuanced process.
Partner Meghan Foeckler      
Meghan's experience with navigating higher education was not an easy one.  She began her college studies at the California Maritime Academy in Vallejo, CA pursuing a degree in Marine Transportation.  After a year, she transferred to Whittier College in Whittier, CA.  There she changed her major several more times before settling on a Liberal Arts degree with a focus on Studio Art.
After graduation, she moved back to Maryland to be with her family, unsure as to the best career path for her.  She knew that she loves working directly with people and eventually began working at University of Maryland University College as an Military and Veterans Advanced Academic Advisor.  After 2 years of working in the call center environment, she was tired of having students be equated to "just a number."  She wanted to get to know students on a more personal level by working with them face to face vs. only over the phone.  She was promoted to Military Education Coordinator and moved to the Education Center at Fort Meade and NSA.  In September of 2014, she completed her Masters of Science in Management with a specialization in Human Resources and attempted to break into the field of HR.  After deciding that HR was not a fulfilling career path (for her), she realized that helping students successfully navigate the field of higher education was where her heart truly lay.
Upon re-entering the field of higher education, Meghan served as Associate Director of Admissions at Capitol Technology University in Laurel, MD for a year and a half.  As reports of increased student loan debt emerged year after year, she had had enough!  After her experience in higher education, she knew that a college degree didn't need to be expensive, require students to graduate with student loan debt and set off on a journey to help families minimize and eliminate student loan debt for high school students.
In addition to helping high school students navigate the college admissions process, finding schools where the student can truly thrive, graduate with minimal to no debt, and be well prepared for college life, she is also active in a number of other areas of higher education.  She currently teaches Ethics at Capitol Technology University, and also runs her own business that specifically serves active duty military and veterans (helping them to expedite the completion of their degree without going into debt), and teaches religious education on Sundays at her local parish.
Meghan currently lives in North Laurel, MD with her husband and three cats.  She enjoys reading historical fiction, adult coloring books, hiking, and is an avid swimmer.  Over Meghan's 5+ year tenure in higher education she has worked with over 5,000 students and greatly looks forward to assisting your child with this process!
Meghan is an Associate Member of the Independent Education Consultants Association (IECA) and a member of the Potomac and Chesapeake Association for College Admission Counseling (PCACAC).  She is also working towards the Independent Educational Consultant certificate from UC Irvine.
About Our Counseling Process
Our Free Introductory Meeting
We meet at a time that accommodates your schedule. Our meetings can be on weekdays, as well as on nights and weekends, so that it works for your family. After the initial meeting we can meet at my home/office, correspond via e-mail, phone, Skype, or FaceTime.
You are the Focus
We use a personality assessments to learn more about each student, and give them insight into what their strengths and weaknesses are. This information gives you possible majors as well as potential careers, and is tied to a national database to help you research those careers and give you specific information on salaries, growth of the sector, and brief descriptions of what you would be doing.
Your College List
After getting to know you, and asking you about your preferences, we develop a list of colleges that are a good fit. Our tools help to make your college visit successful, so that you ask questions that are important to you.
We can continue to modify this list if your preferences change. We have visited over a hundred colleges and universities and continually stay abreast of changes and significant information. You are unique and we want to find you a place where you will thrive.
Applying to Your Colleges
Knowing what colleges are looking for drives our representation of your qualities. We pick essay topics which give you an edge with admissions officers. We focus on strong resumes and teach interviewing skills until you shine.
In order to give my students an advantage we are around in the summer before their senior year to help them fill out their applications so that they are ready for early admission, early action or rolling admission. No matter when you start, we help to reduce the stress and keep students focused on each task at hand.
So Many College Offers
If after getting into many college you are overwhelmed with the many choices, we can help. We have an unbiased and knowledgeable perspective to assist you in looking at your options. Most of our students fall in love with one particular college, and 88% of my students get into their top choice school.
Transitioning to College
We give you information so that you have a smooth and successful transition to college. Giving you packing list and tips to start your college career and be successful.
Staying in Touch
We are thrilled to stay connected with you and help you throughout your college career and longer. Hearing back from students who have successfully landed and giving them more help is part of this rewarding experience. Feel free to continue to reach out to us with questions that you have during college or just stop by for cookies and ice cream when you are around and tell me about your experiences.
No matter where you are on your path to college acceptance, we can help add your story to our growing list of successful outcomes. Take the first step to a brighter future and request a free meeting with me today.