Benefits of College Counseling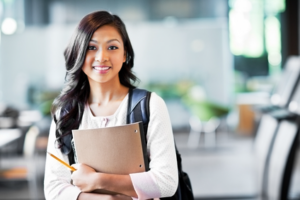 The cost of a Bachelor's Degree starts at $40,000, and can rise to over $280,000 for 4 years at some private colleges. This is a major investment, and having expert counseling can make an enormous difference financially and emotionally.
While nobody can make guarantees about future results, my students have received significant merit based scholarships. In the last year alone, they have been awarded over $3 million dollars of merit scholarship money – in most cases this has been a wonderful return on investment for the families who have hired me, more than covering the cost of my services!
In addition to the financial benefits, I also help students grow as individuals, worry less during this potentially stressful process, and get admitted to colleges where they can thrive.
My advice is tailored to the individual needs of each of my clients, but our goal is always the same – admission to a college that the student loves, and is a great fit for. 85% of my students have been accepted by their first choice college.
Personal Attention
Each student that I work with receives extensive personal counseling because I only work with a few students each year. In contrast to a guidance counselor who may have hundreds of students in their roster, I get to know each of my students well. This in-depth knowledge enables me to focus on the areas of their college preparation that need the most attention.
Every student has unique needs – whether it's developing ideas for essays, expanding their resume and extra-curricular activities, or practicing the interview process, I can help.
Apply to the Right College
Selecting a college that aligns with their goals and desires can be one of the most complicated decisions that a young adult has made in their lifetime. I help students navigate the vast sea of choices with the following strategies:
Use a Myers Briggs Type Indicator to understand the student's strengths and weaknesses, and discuss the findings to give us both insight into their natural tendencies and uniqueness.
Provide a list of colleges tailored to each student's unique abilities, interests, grades and goals.
Review strategies for conducting effective college visits, and provide tools to help the students objectively evaluate each potential school.
Discuss admissions requirements for schools of interest and help to narrow the pool to those most aligned with the student's academic history.
Improve Your Chances of Admission
Selecting the correct schools is only part of the challenge. Using my counseling skills to empower a student by teaching them how to make the right choices, market themselves, and interview effectively gives them a significant advantage.
Assist in developing a resume/activities list to highlight the student's distinctive strengths and special achievements.
Compare the different standardized testing options to determine whether the student should focus on the SAT, ACT, or SAT II's
Discuss test preparation options, including cost-effective or free review strategies.
Discuss approaches for writing essays and personal statements, help the student to identify and highlight their unique strengths, brainstorm ideas, assist with topic selection and provide feedback on the writings prior to submission.
Conduct practice interviews to make our students more effective and comfortable with college admission interviews.
Reduce Stress and Improve Outcomes
While all of the above consulting services inherently help to reduce the stress on the student and their family, we also do some other things that are specifically designed to help in this area:
My counseling system works effectively and keeps the students moving smoothly through the process with the knowledge that they have an expert who cares about their success.
I strive to help the student become more self-aware and build their confidence as they tackle this very important milestone.
Having me keep the students on course allows the parent/child relationship to be healthier and less stressful.
The Bottom Line
From an article by Jed Applerouth
Picking the right school saves money.
Fewer than half the students who start freshman year at a college will graduate from that same college. Transfers and dropouts are common, and the 4-year graduation rate across the country hovers at 40%.
No matter where you are on your path to college acceptance, we can help add your story to our growing list of successful outcomes. Take the first step to a brighter future and request a free meeting with me today.