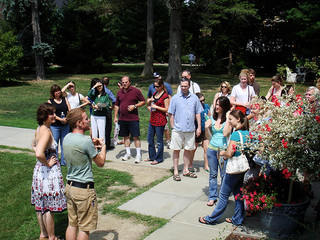 Which type of visit would be best for you: Open Houses, Autumn Preview Days, specific Major or Honors College tours, Personalized Visits, an Overnight Visit, or a regular tour? Your choice may be limited by family availability, but here are the basics:
Open Houses
Many of these take place on Saturdays, Columbus Day, or President's Day. The advantage of attending an Open House can be the variety and number of activities to participate in. There is usually more going on during an Open House than there is during a tour and information session. For example, there may be specific tours or sessions related to majors, study abroad information meetings, meetings with faculty and financial aid representatives, and lunch in the cafeteria. Open Houses can last anywhere from 4 – 6 hours.
Tours of Majors / Schools
Quite often colleges will offer tours of specific programs so you can learn more in-depth what is offered and what differentiates them. This is worthwhile if you are sure of what you want to study.
Personal / Individual Visits
If you have narrowed your list to a few schools this type of trip can be well worth the time. A personalized experience allows students to observe classes and meet with professors and other students. In order to arrange a personal visit, call the admissions office and give them at least three weeks notice.
Overnight Visits
Not all colleges allow this, due to a variety of reasons such as liability. The schools that do offer an overnight visit, usually arrange a stay on campus with a current student.
Honors College Programs
These programs can be a way for students of a large university to have a small school experience and access to some of the best professors the college has to offer. Quite often there are designated dorms. There may even be opportunities other students do not have when registering for classes.  And in many instances, honor students have access to merit scholarships.
https://www.annapoliscollegeconsulting.com/wp-content/uploads/2015/04/students-touring-a-college-campus.jpg
240
320
Cori Dykman
https://annapoliscollegeconsulting.com/wp-content/uploads/2015/04/Annapolis-College-Consulting-logo.png
Cori Dykman
2018-12-04 19:43:11
2020-01-19 21:30:24
Options for College Visits